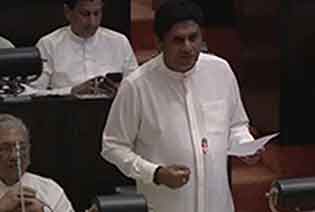 Opposition Leader Sajith Premadasa has warned that Sri Lanka will have to face grave consequences as a result of the enforcement of the Online Safety Bill. MORE..


3 Oct 2023 (4:17 PM)



The World Bank revised up its forecasts for Sri Lanka s economy on Tuesday, noting the crisis-hit nation had made strides in reducing inflation and had benefited from tourism revenue as well as an appreciation in its currency. MORE..


3 Oct 2023 (5:08 PM)



Mohamed Uvais Mohamed, the chairman of the Ceylon Petroleum Corporation (CPC) Ceylon Petroleum Storage Terminals Limited (CPSTL), has stepped down from his positions. MORE..


4 Oct 2023 (2:24 AM)



The Cabinet of Ministers, at its meeting on Monday (Oct. 02), has given the nod to establish a new Commercial High Court. MORE..


3 Oct 2023 (10:26 PM)



The Meteorology Department has issued an Amber warning for heavy rains in Southern Province as well as in Kalutara and Ratnapura districts. MORE..


3 Oct 2023 (5:37 PM)



Public Security Minister Tiran Alles presented the much-disputed Online Safety Bill to the parliament today (Oct. 03). MORE..


3 Oct 2023 (1:43 PM)