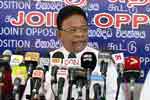 There is no other era in the Sri Lankan history, in which Sri Lankan Rupee consecutively depreciated three times just within a week and three years, claims the Joint Opposition. MORE..


19 Sep 2018 (7:06 PM)



The ceremony to vest the Gomarankadawala Bakmeegama tank which is renovated under the Sirisara Pivisuma project with the public and the opening of the 30 km long Elephant Fence which is constructed as a pilot project in Gomarankadawala area to provide a solution for the age old human elephant conflict, will be held... MORE..


20 Sep 2018 (9:46 AM)



The Islamabad High Court (IHC) on Wednesday ordered the release from jail of former prime minister Nawaz Sharif, his daughter Maryam Nawaz and son-in-law Capt Safdar, suspending the sentences they received from an accountability court in July. MORE..


19 Sep 2018 (6:02 PM)



Sri Lanka has decided against giving control of Palaly Airport to India just days after the state-run Airport Authority of India made a move to develop it. MORE..


20 Sep 2018 (12:35 AM)



Following a discussion held with Minister of Industry and Commerce Rishad Bathiudeen, Bakery Owners Association said that they will be able to bring down the price of a loaf of bread by Rs 5 within several days. MORE..


19 Sep 2018 (8:01 PM)



The National Transport Commission (NTC) today announced the revised bus fares following the decision to increase fares in line with the recent fuel price hike. MORE..


19 Sep 2018 (6:51 PM)