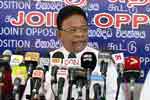 There is no other era in the Sri Lankan history, in which Sri Lankan Rupee consecutively depreciated three times just within a week and three years, claims the Joint Opposition. MORE..


19 Sep 2018 (7:06 PM)



The current Inspector General of Police (IGP) is behaving in a manner that disrepute the whole of Sri Lankan Police history, says JVP leader Anura Kumara Dissanayake. MORE..


19 Sep 2018 (7:01 PM)



The Sri Lankan Rupee has further depreciated against the US Dollar as the selling price hikes up to Rs 167.14 per US Dollar. MORE..


19 Sep 2018 (3:07 PM)



Sri Lanka has decided against giving control of Palaly Airport to India just days after the state-run Airport Authority of India made a move to develop it. MORE..


20 Sep 2018 (12:35 AM)



The Cabinet has approved the proposal to declare the Tripitaka , the text which includes all teachings of Buddha, as a national heritage in Sri Lanka. MORE..


19 Sep 2018 (10:32 PM)



The overseas travel ban imposed on former Minister Rohitha Abeygunawardena, who is charged over the alleged illegal acquisition of assets, has been temporarily lifted by the Colombo High Court. MORE..


19 Sep 2018 (7:20 PM)