The Cabinet has approved the proposal to declare the Tripitaka , the text which includes all teachings of Buddha, as a national heritage in Sri Lanka. MORE..


19 Sep 2018 (10:32 PM)



The Islamabad High Court (IHC) on Wednesday ordered the release from jail of former prime minister Nawaz Sharif, his daughter Maryam Nawaz and son-in-law Capt Safdar, suspending the sentences they received from an accountability court in July. MORE..


19 Sep 2018 (6:02 PM)



The current Inspector General of Police (IGP) is behaving in a manner that disrepute the whole of Sri Lankan Police history, says JVP leader Anura Kumara Dissanayake. MORE..


19 Sep 2018 (7:01 PM)



Education Minister Akila Viraj Kariyawasam says that the education system in the country should be adapted to suit the modern world. MORE..


20 Sep 2018 (11:43 AM)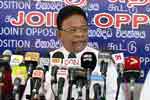 There is no other era in the Sri Lankan history, in which Sri Lankan Rupee consecutively depreciated three times just within a week and three years, claims the Joint Opposition. MORE..


19 Sep 2018 (7:06 PM)



Professor Channa Jayasumana says that the mythical history created by racists in Sri Lanka has led to violation of human right in all Sri Lankans. MORE..


19 Sep 2018 (4:31 PM)