Professor Channa Jayasumana says that the mythical history created by racists in Sri Lanka has led to violation of human right in all Sri Lankans. MORE..


19 Sep 2018 (4:31 PM)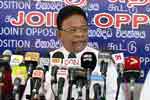 There is no other era in the Sri Lankan history, in which Sri Lankan Rupee consecutively depreciated three times just within a week and three years, claims the Joint Opposition. MORE..


19 Sep 2018 (7:06 PM)



The current Inspector General of Police (IGP) is behaving in a manner that disrepute the whole of Sri Lankan Police history, says JVP leader Anura Kumara Dissanayake. MORE..


19 Sep 2018 (7:01 PM)



The wholesale price of sugar will be increased by Rs 15 per kilogram with immediate effect, according to the Sugar Importers Association.


19 Sep 2018 (5:03 PM)



Chief Prelates of Malwathu and Asgiri Chapters have given a letter to President Maithripala Sirisena to bring his attention to actions of both clergy and laymen against the Buddha Sasana. MORE..


19 Sep 2018 (5:09 PM)



The National Transport Commission (NTC) today announced the revised bus fares following the decision to increase fares in line with the recent fuel price hike. MORE..


19 Sep 2018 (6:51 PM)